EDIT MAIN
Counselors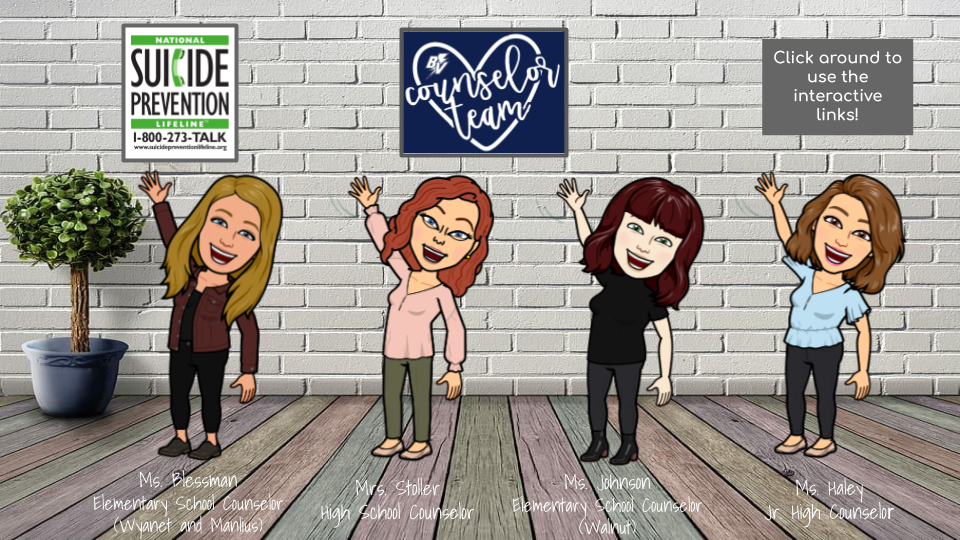 | | | | | |
| --- | --- | --- | --- | --- |
| Building | BV High School | BV Junior High | BV Walnut | BV Wyanet/Manlius Elementary |
| Name | Aimee Stoller | Megan Haley | Kari Johnson | Stephanie Blessman |
| Email | astoller@bureauvalley.net | mhaley@bureauvalley.net | kjohnson@bureauvalley.net | sblessman@bureauvalley.net |
| Building Phone | 815-445-4004 | 815-445-2121 | 815-379-2900 | 815-699-2251 |
Social Emotional Learning Menu
Emergency Assistance Hotlines
Suicide - 24 Hours 1-800-273-TALK
National Suicide Prevention Hotline
1-800-273-8255
for hearing/speech impaired:
1-800-799-4TTY (4889)
Poison Control - 24 Hours
American Association of Poison Control Centers
1-800-222-1222
Child Abuse Hotline
1-800-252-2873
Disaster Distress Helpline
Provides immediate counseling to anyone who needs help in coping during COVID-19 Pandemic
1-800-985-5990 (call)

Text: TalkWithUs to 66746
We encourage all students, staff and community members to follow these recommendations from the Centers for Disease Control:
Avoid close contact with people who are sick.
Avoid touching your eyes, nose, and mouth with unwashed hands.
Wash your hands often with soap and water for at least 20 seconds. If soap and water are not available, use an alcohol-based hand sanitizer with at least 60% alcohol content.
Stay at home if you are sick.
Cover your cough or sneeze with a tissue, and throw the tissue in the trash.
Clean and disinfect frequently touched objects and surfaces.
Know how it spreads:
Between people who are in close contact with one another (within about 6 feet).
Through respiratory droplets produced when an infected person coughs or sneezes.

These droplets can land in the mouths or noses of people who are nearby or possibly be inhaled into the lungs.
Here are links to our health officials' websites