BVHS Athletic Office: We hope our coaches, athletes, and families enjoyed time off during the IHSA Dead Week. PLEASE remember ALL athletes starting practice tomorrow (Monday, August 8th) a current athletic physical must be on file and ALL athletic paperwork must be completed.
BVHS Athletic Update: Tuesday, August 9th Practices: Cheer (BVHS) 2:00pm-5:00pm Dance (BVHS) 4:00pm-6:00pm Good Luck! Go Storm!
BVHS Athletics Update: Monday, August 8th BVHS Practices: B/G Cross Country (Storm Stadium) 6:30am-8:00am B/G Golf (BVHS Auditorium/Hidden Lake) 2:00pm-5:00pm Volleyball (Auditorium/Storm Cellar) 8:00am-12:00pm Football (Bourquin Field) 5:00pm-7:30pm Good Luck! Go Storm!
THANK YOU to all of our amazing community businesses and volunteers who have already begun showing their support and partnership with Bureau Valley CUSD #340. Bureau Valley schools start another school year knowing they're blessed with strong community support.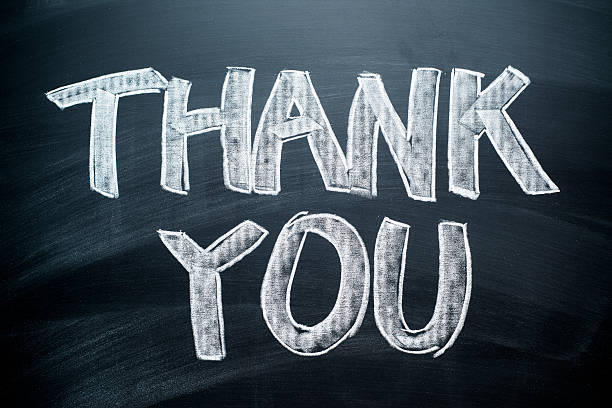 A thought on friendship . . .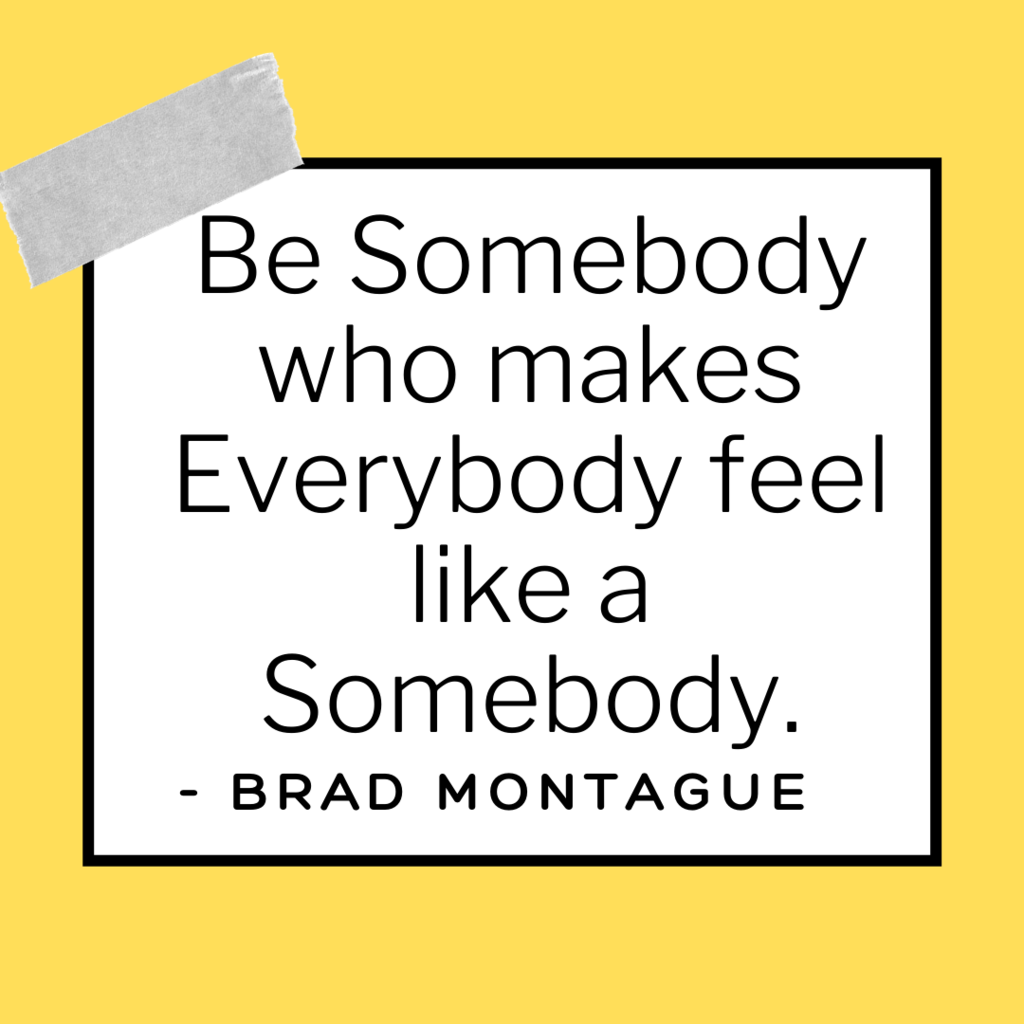 BVHS Varsity Football Update: BV football fans the STORM will be playing Week 1 this Fall if you haven't already heard! The STORM will be traveling to play @ Villa Grove on Friday, August 26th at 7:00. This varsity football game takes the place of the Riverdale game. Go Storm!
BV Backpack Night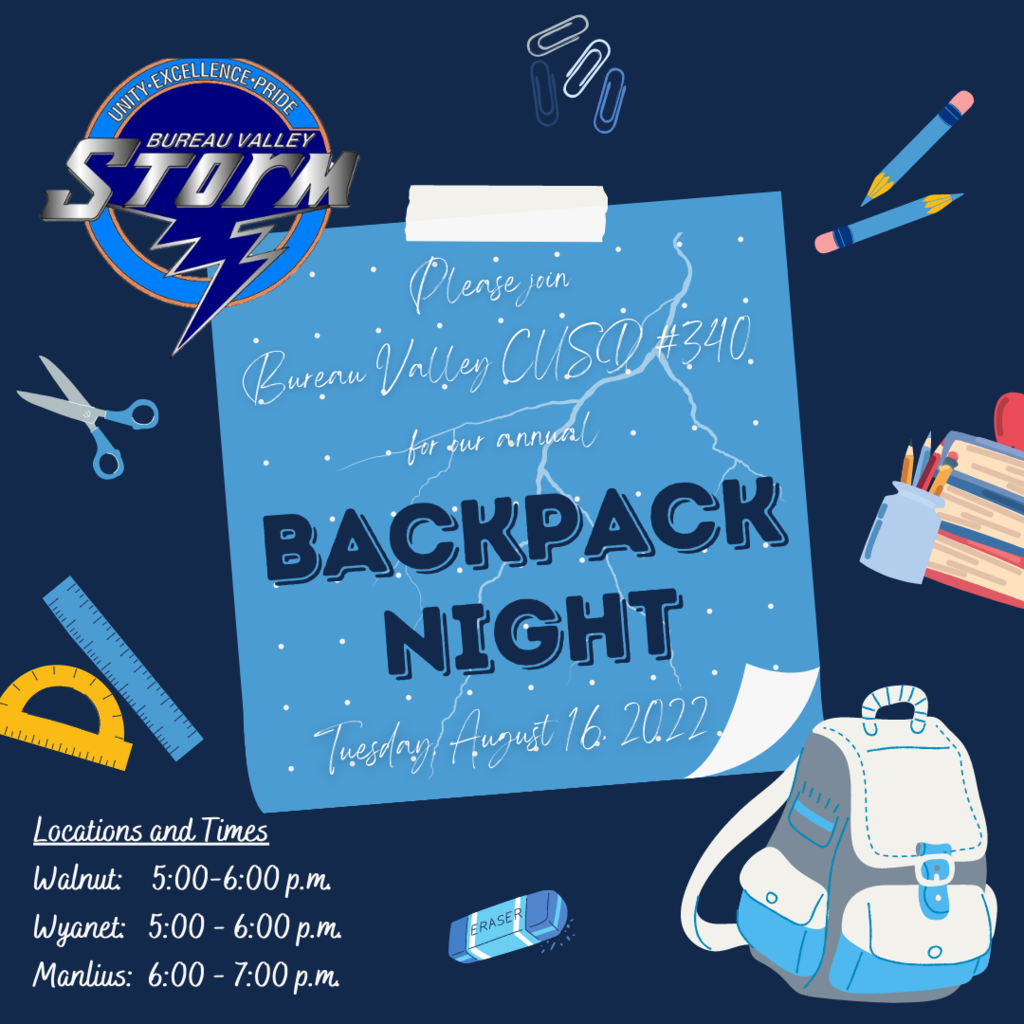 "High school is what kind of grows you into the person you are. I have great memories, good and bad, some learning experiences and some that I'll take with me the rest of my life." – Giancarlo Stanton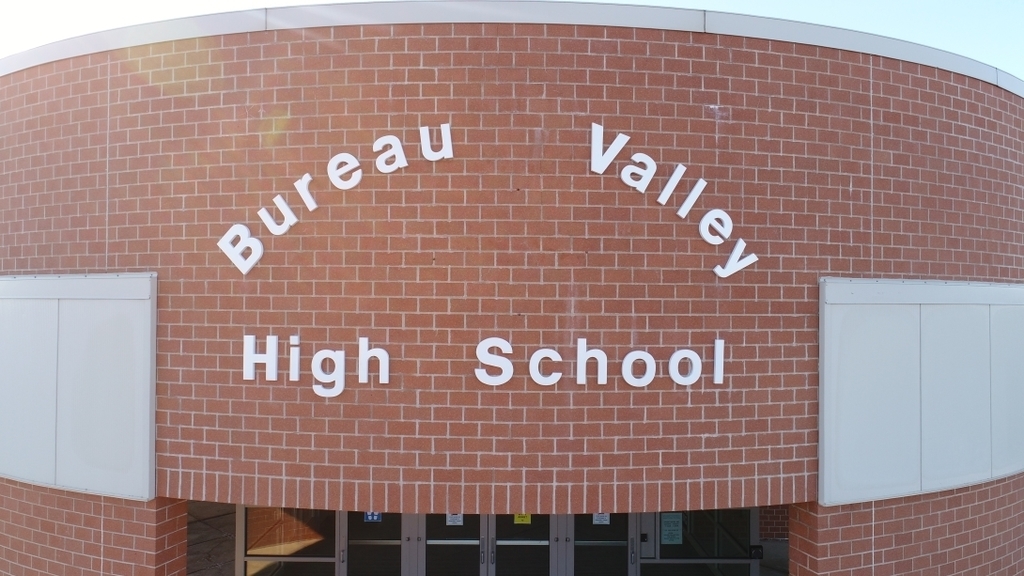 The 2-week countdown begins! We're looking forward to returning students to these empty hallways on Wednesday, August 17th.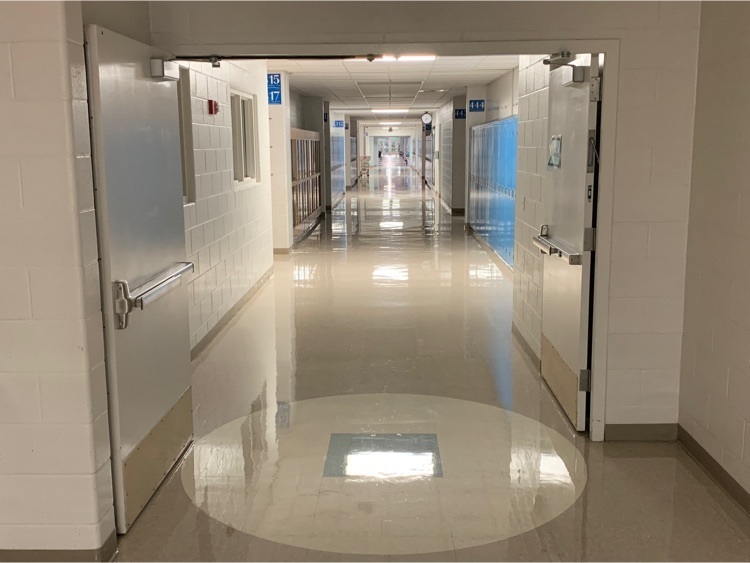 Unlike PreK-8, BVHS doesn't have a formal school supply list; however, students may need pens, pencils, notebooks, and folders. Students will receive Chromebooks on the first day of school, at which time teachers may provide a list of supplies needed for some high school classes.
Happy August! Fall practices start on Mon., August 8th. Backpack Night at BVHS is Tues., August 16th from 6-7:00 PM. First day of school is Wed., August 17th. School will dismiss at 2:00 PM. on August 17th, 18th, & 19th. Meet the Storm will be at 6:00 PM. on Fri., August 19th.
Please join Bureau Valley CUSD #340 for our annual Backpack Night on Tuesday, August 16, 2022. Students and parents are welcome to come and drop off school supplies, find your classroom, and meet the teachers.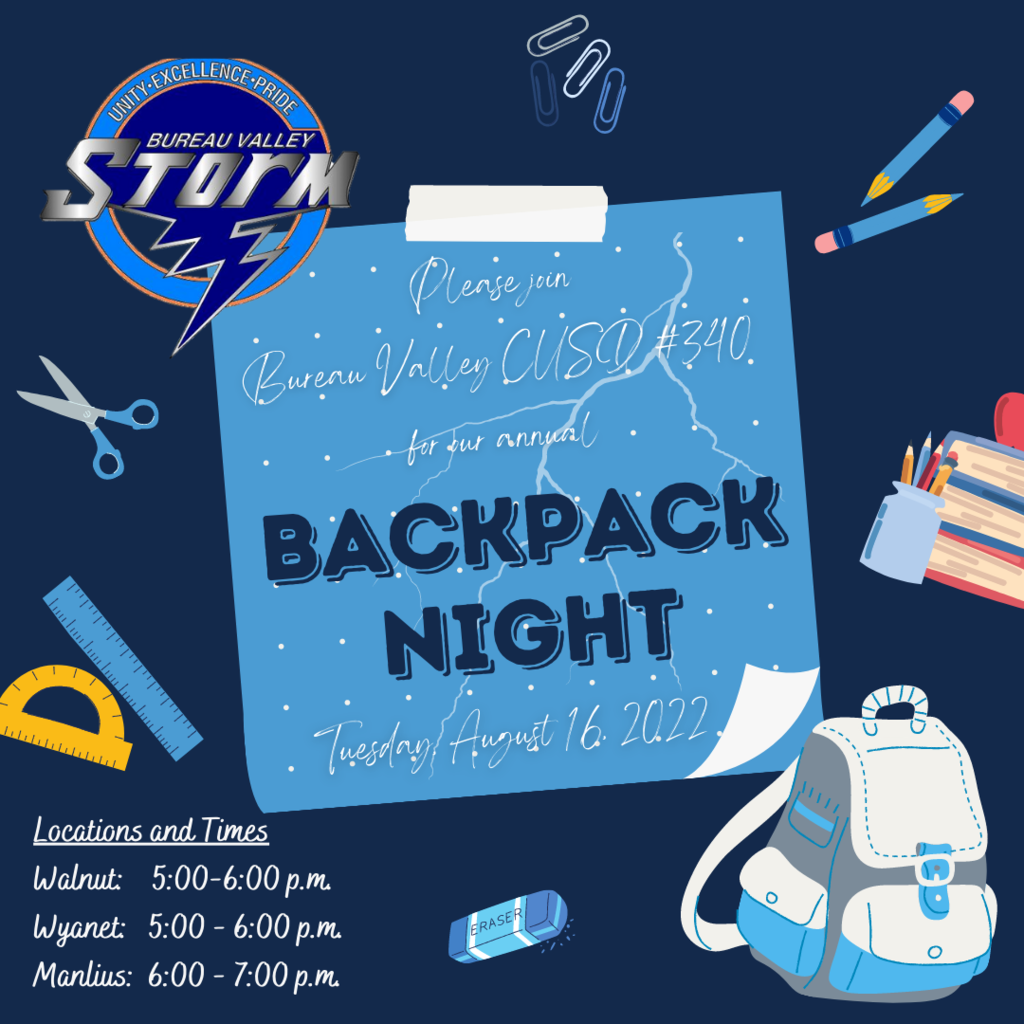 BVHS Band Camp: Mon., Aug. 1st - 9:00-12:00 Tues., Aug. 2nd - 9:00-12:00 Wed., Aug. 3rd - 9:00-12:00 Thurs., Aug. 4th - Off Fri., Aug. 5th - 9:00-12:00

2022 BVHS Band Camp: Monday, Aug 1: 9-12:00 Tuesday, Aug 2: 9-12:00 Wednesday, Aug 3: 9-12:00 Thursday: Off Friday, Aug 5: 9-12:00
BVHS dance team members participated in dance camp this week at Kewanee HS. Congrats to Coach Blake and all dance team members on a very productive week. Special congratulations to Izabel Wallace, Callie Schoff and Elizabeth Backer on being selected to the All-American team.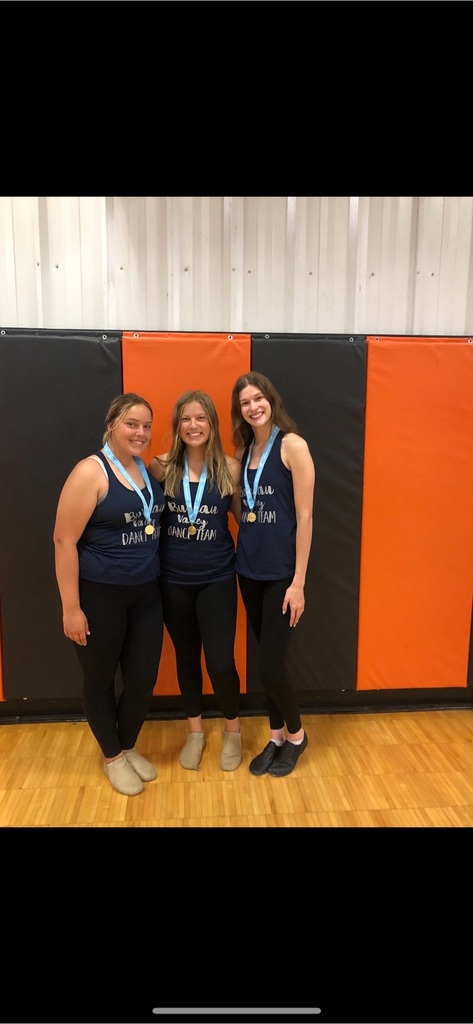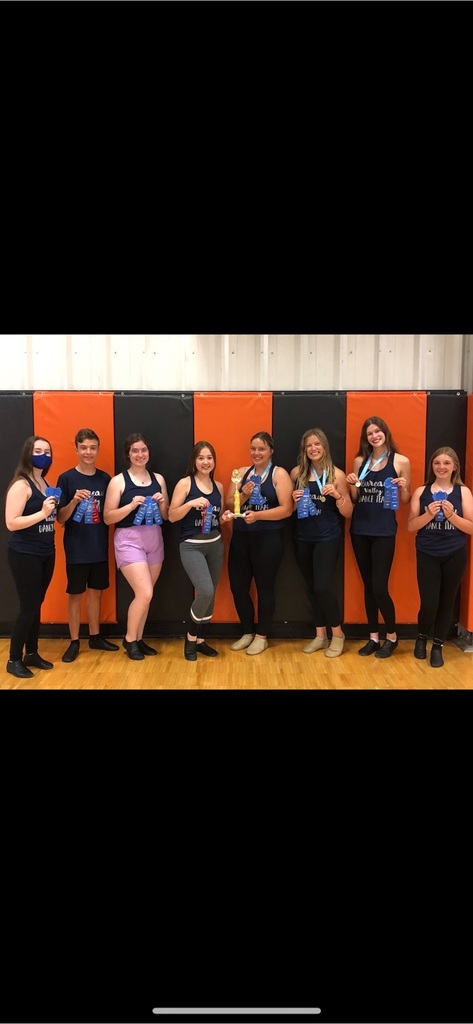 BV Sports Boosters: New officers for the 22-23 school year President-Josh Egan Vice President-Scott Stoller Secretary-Cat Hartz Treasure-Tonya Spencer Thank you to Vicki Wessel and Melissa Hochstatter for your years of service! July 6th @ 6:00 Beer Here Bar and Grill
Bureau Valley High School proudly displays military banners in the Commons. To help with updates, please complete the linked form by Fri., June 24th if you know a BVHS graduate who completed military basic training. Thanks!
https://forms.gle/rBxr8VzYgnpCXnLX7
BVHS boys and girls basketball camp started today! It was great to see our coaches and campers working together to improve the campers basketball fundamentals. Have a great rest of the week! Remember basketball players are made in the summer! Go Storm!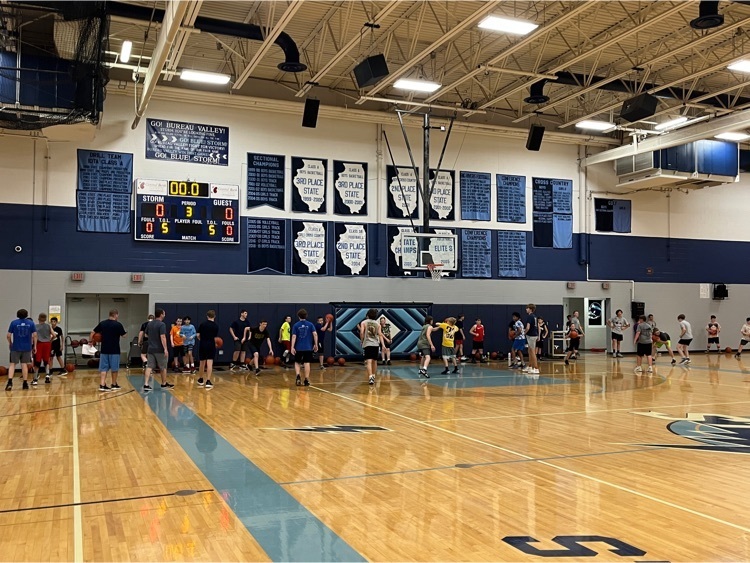 Girls' Weight Room and Speed Training will begin Wednesday June 1st and Thursday June 2nd at 8 to 9am. Beginning Monday June 6th and continuing throughout the months of June and July, Girls' Weight Room and Speed Training will be Monday, Tuesday and Thursday from 8 to 9am.